Kevin Hick - Bristol Area Instructor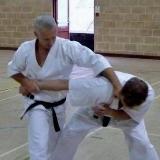 5th Dan & Membership Secretary of the Association

I've been practicing karate since 1983, Yang style Tai Chi Long Form since around 1985 and Chen style Tai Chi since around 1988. I started under the tuition of Sensei Nick Moller (now of Shouri Shoto Ryu) when he started his first club, which was at my school.
I met Sensei Nash soon after I started, at my first grading in fact. He really inspired me and I decided to model my karate on his teaching. Sensei Nash was one of those people that made you want to give 100% effort, which was fortunate, as he wasn't content with less. He taught me one of my favourite quotes - 'We forge our bodies in the furnace of our will' - and believe me, it was quite apt as he often asked us to practice beyond our comfortable limits in order to make us rely on our resolve to continue.
From then on I practiced 3 times a week & went to almost every weekend course, under Sensei's tuition, usually two gruelling days once a month. I also attended every Summer Camp I could.
After 3 years I had the opportunity to be assessed for my black belt but I felt I needed to improve and gain experience before I would be worthy of it. During the next year my Sensei was involved in an accident so I took over his classes, which meant training & teaching 5 times a week. It gave me the boost I needed and at the next Summer Camp (1987) I was awarded a black belt. A few months afterward my Sensei opened another club and was kind enough to hand instructorship of the existing club to me; I've been an instructor since.
Thanks to Sensei Nash Shoto Ryu Karate has a very wide syllabus, and l enjoy pretty much all of it, some of my favourites are: Kata, Kihon, Kumite, weapons, pad-work, Tai Chi, locks and timing.
I'm a father of 3 & a computer programmer by day & really benefit from the exercise I get from karate. The mental challenge is a great distraction and really takes your mind off your everyday troubles; there is also an element of meditation in doing Kata that is really rewarding. Of course there are some challenges in Karate itself (notably gradings) but I have always found it enjoyable - a change is as good as a rest!
My wife Suzanne also practices Shoto Ryu, it's great to be able to share this part of my life with her. She practised Higashi Karate before I met her but had given up. She started Shoto Ryu a few years ago and was awarded her 1st Dan by Sensei Nash in 2008.
I've tried Aikido, Shoto Kan & fencing and enjoy other sports, but I've never been drawn away from Shoto Ryu, and really believe I never will be.
Dan Grades Awarded with Shoto Ryu Karate Kai
1987 - 1st Dan
1989 - 2nd Dan
1994 - 3rd Dan
2000 - 4th Dan
2008 - 5th Dan